IPEN is keen to help support national and regional permaculture movements, and iLAND centres, to be able to develop coherent learning pathways for people and organisations that want to develop their skills in permaculture design, practice and teaching. This is also relevant for individuals or Teaching Guilds to think about their own learning pathways.
To help illustrate this, the diagram below indicates options for routes for people to progress on their permaculture learning pathway: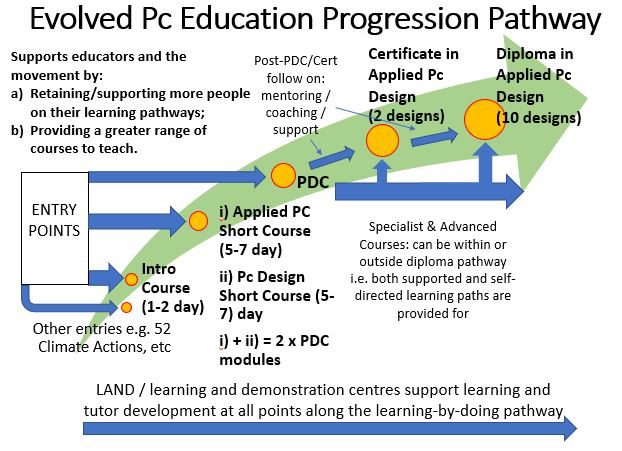 This means thinking about and putting in place a range of good 'entry points' into learning permaculture, which for example could include through practical agroecology training or Climate Action training, as well as Introduction to Permaculture courses.
With so much online and self-directed learning now available, as well as specialist areas like forest gardening, regenerative agriculture or ecobuilding, it is probably most helpful not to think there is (or should be) one fixed linear pathway as the best or only way to learn permaculture i.e. Intro –> PDC –> Diploma –> Teacher Training … (although this might be ideal for some).